This is your Crime Stoppers of Metro Alabama
Our mission every day is to acknowledge the voices of our community and continue to work tirelessly to be an agent of change and a partner in making our community safe for everyone. 
We hear you.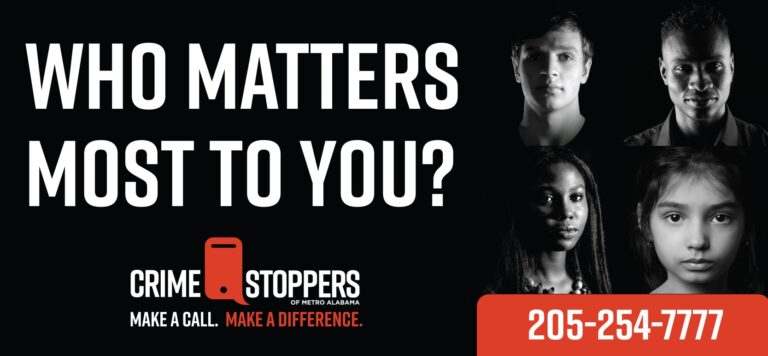 Unsolved homicides affect our entire community but most important the loved ones of those we have lost. Too often survivors are left with no knowledge of available assistance as they deal with the days, weeks, and months after a violent crime affects their lives. Our community partners provide support and services to homicide survivors but also to other crimes that affect our community.
Please follow this link to request information on available services
Crime Stoppers of Metro Alabama is committed to raising awareness of human trafficking and is asking you to take action to make a call & make a difference.
Our community and our children are depending on all of us.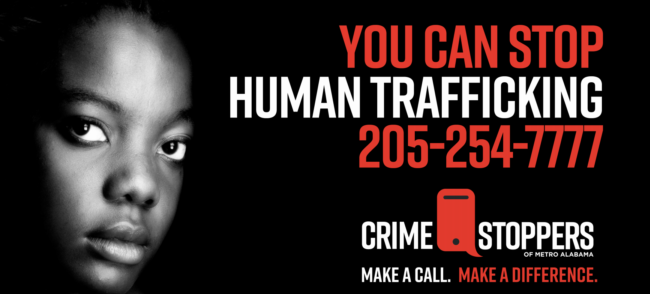 Crime Stoppers of Metro Alabama offers cash rewards for tips that lead to the arrest or charge of felony offenders. Our tipsters remain ANONYMOUS. We do not have caller ID, and IP addresses from tips submitted via the internet are deleted. Offering cash rewards is a proven way of getting the information law enforcement needs to solve crimes and locate wanted criminals, but the real value of our program is that it gives citizens an opportunity to help make the communities where they live and work safer. Crime Stoppers of Metro Alabama is not a law enforcement agency, but it works closely with law enforcement throughout Central and North Alabama.
TOTAL APPROVED
REWARDS TO DATE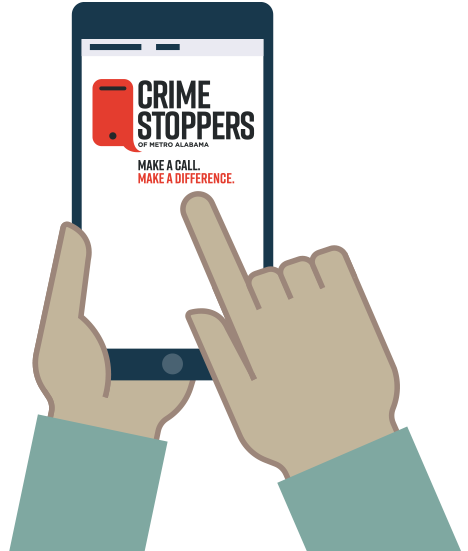 If you or someone you know is in need of services or support, please contact one of our community partners. Crime Stoppers of Metro Alabama supports the generous work of these local agencies.
Crime Stoppers is funded by private donations and fundraising. Learn more about how you can support our mission and make your community safer.

Check in with Chairman Frank Barefield for a recurring blog highlighting current events and trends in metro Birmingham's ongoing pursuit of public safety.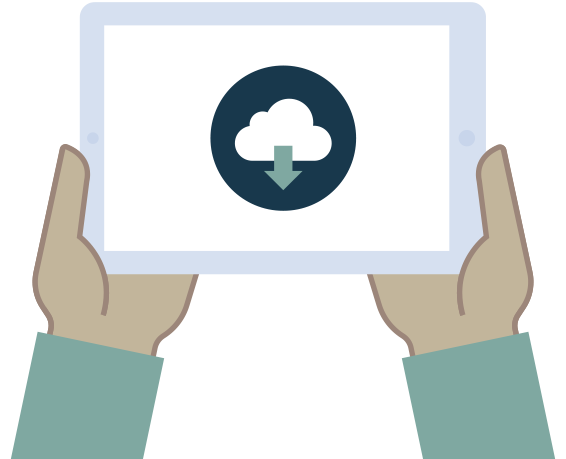 You can submit anonymous tips from our free and secure mobile app. Search your app store for "P3 Tips" or click the appropriate link below.
Our Vision
For Alabama to have a healthy, responsive nonprofit sector that improves the quality of life for all citizen
Culture of Accountability
We are the state leader in helping organizations maintain the highest standards of ethics and accountability. We offer and promote the Standards of Nonprofit Excellence Seal to those organizations that can demonstrate and maintain a commitment to the 6 Guiding Principles that include 54 benchmarks that embrace honesty, integrity, fairness, respect, trust, compassion, responsibility and transparency.
Crime Stoppers of Metro Alabama is